Wednesday, August 11th, 2010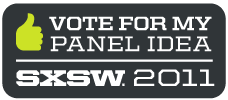 Voting has officially opened! SXSW Interactive is now taking votes for panel topics at its conference in March 2011. We proposed a panel on "Branding Reinvented: Creating Engagement in the Digital World." Our CEO/Creative Director, David Lai, will address how to break through the noise in the ever-expanding digital landscape today, and effectively get consumers interested and engaged with brands.
We'll share our thinking and strategy behind recent brand-building initiatives for our clients, such as Herman Miller, Sony and the LA Philharmonic. Interested? Vote for us here.